Commissioned Second Stage Proposal, exterior glazing integrated public art for Cadillac Fairview's Rideau Centre, Ottawa
Excerpt from the Concept for Watermarks:
The Rideau Centre is located in close proximity to several waterways: the Ottawa River, the Rideau River and the Rideau Canal. These bodies of water 'mark' the history and present-day profile of Ottawa, having contributed to the city's growth and development in industry, commerce, transportation, and leisure. Watermarks, three integrated artworks that employ close up views of water imagery, speak to a sense of Ottawa's place and character, calling to mind these nearby environmental features. By celebrating both heritage and contemporary architecture, the design of the Rideau Centre revitalization embraces changing aesthetics over time. Water is an apt metaphor for this redevelopment as it too embodies an enduring presence, while also evoking a sense of renewal in its changing surface. The three Watermarks therefore also 'mark' the unique identity of the new Rideau Centre. Like the translucent paper watermark designs that are most visible when held up to the light, the digitally printed glass artworks are further enhanced by backlighting to create a 'lightbox' effect at night.
Each of the three expanses of glazing are digitally printed with a composite image of close-up photographs of water, featuring details of animated, organic lines and forms. Although they realistically document Ottawa area waters, the photographs also transcend conventions of land- or water-scape to become abstracted images. Each of the glazed surfaces is filled by one main image that is intercut with interspersed vertical swaths from other close-up photographs. These inserts create rhythmic movement across each glazed area. The rhythm and structure created by the inserted segments echo the cadence and proportions of the architectural elements in the nearby heritage portions of the Rideau Centre. In this way, the resulting patterns of vertical forms allude to the historic retail street façade.
Related News and Publications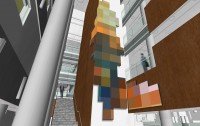 Commissioned Public Art Proposals, 2013-2016